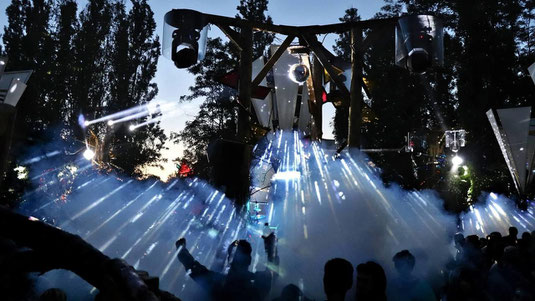 In 2021 the WURZELFESTIVAL will take place in a hybrid way for the first time, meaning a "real" festival on site and – additionally – "interactive digital" via the streaming start-up LIFELIVE.io.

With its usual fabulous and colorful line-up, the Wurzelfestival welcomes its guests as one of the few model projects. A total of 14,000 visitors - spread over four event weekends - have the opportunity to visit and enjoy the festival absolutely corona-compliant. Together with the Brandenburg state government, the local health and public order departments and local politicians, a special event concept has been developed.

Real + digital | Wurzelfestival x LIFELIVE.io Livestream 29.07. - 01.08.2021

Wurzelfestival visitors can participate not only in real life on site, but this year also "interactively online". For those who can no longer get a ticket for the festival or do not have the possibility to get there, LIFELIVE.io offers the opportunity to enjoy two of the stages from one of the four weekends via livestream from home. For the Berlin-based startup LIFELIVE.io, this is the first accompanied hybrid festival that takes place in real life but is also exclusively streamed via LIFELIVE.io.

What makes the concept of LIFELIVE.io extraordinary is that the "digital" guests can also see each other within the streaming platform, switch back and forth between different stages, communicate with each other, have fun and dance & party together to the music. If you cannot come to Wurzelfestival, Wurzelfestival will come to your home via LIFELIVE.io.
Push Hard has accompanied LifeLive.io since its founding and is also responsible for PR consulting, business development and brand identity.


Program Livestream

The line-up of the festival consists of internationally renowned acts and scene-relevant artists. Above all, the themes of inclusion and environmental awareness take on a special significance at the Wurzelfestival. And the authentic spirit of the festival paired with the sympathetic "join-in principle" is also in focus, along with a communal party culture.

Guests of the Wurzelfestival can actively participate and experience more than just memorable moments as well as create them themselves. A holistic event concept in which music, cultural framework program, performances, workshops, lovingly decorated locations & installations and gastronomy form a jointly created synthesis of the arts.

Wurzelfestival x LIFELIVE.io Livestream 29.07 - 01.08.2021

Tickets & info about the Wurzelfestival live stream

www.wurzelfestival.de
WURZELFESTIVAL LINE UP
ABOUT THE BIRD, ABRALABIM, ACID FOXY, AIBIRD, ALES GUT, ALEXANDER PAULSKI, ANDOR, ANDRE GAWLITZA, ANDY´S ECHO, ANJA SCHNEIDER, ANNIE O, ANT, APOLONIA, ARNE SCHATTENBERG, ASH ROY, ASTRONOM LIVE), Ayiya, BAKLÄXA, BALEARICFREAKS ALL STARS, BENNO BLOME, BIANKA BANKS, BILLY IDLE, BO IRON, BORONAS, CAPTAIN, CARBON, CARINA POSSE, CARISMA, CARISSL, CARLO BONANZA, CARO SUNSHINE, CASIMIR VON OETTINGEN, CD WEXLER, CHAMPA (LIVE) CHRIS A NOVA, CHRIS EL RATON, CHRIS WOOD, CHRISTAN HAUBNER, DAN CERO, DAN DRASTIC, DANA RUH, DANIELA HENSEL, DANIELO KUPFERNAGEL, DAPAYK, DARIO, DAVE THORLEY, DAVID JACH, DEAN VIGUS, DEMIR, DINKS, DION, DISCO BIZARRE ALL STARS, DJ DIVINITY, DJ EXOCIS, DJ FRANCIS, DJ HIMSELF, DJ PROZAK, DJ REPHIL, DJ SAKE, DJANE ANASTAZJA, DOBÉ, DONNA, DR. ESCHER, DRAXLER, EDE, EKTOSIDE (LIVE), ELECTRONIC ELEPHANT, ELIZA FELIZ, FABIAN REICHELT, FALK KORSAWI, FIDIBUS, FILBURT, FIXIE FATE, FLOCO C, FOR|MAL, FRACTALIA (LIVE), FRANKIE FLOWERS, FRANZ!, GANDAALV, GASTRAXX (LIVE), GORIX, GREEN LAKE PROJECT, HAIK, HALUNKE, HARRY FILLIP, HELLE_WTF, HERR CONRAD, HOLLY NORTH, HOOPERFUNK, HURRICANE, IGGI, IMPEDANZ, INFECTED, IONIXX, JAKOB SEIDENSTICKER, JAMOLL, JAMY WING, JE SARÉ, JERANDO, JOE METZENMACHER, JONAS WOEHL, JORI SCHRAVEN, JORIS BIESMANS, JUBAL, JULITA JUST, KAISER SOUZAI, KAISER KUBA, KAISER SOUZAI, KALO BELLA LOONA, KATZENGOLD, KENNY KUSCHEL, KLX, KONSTANTIN OLIAS, KRISTIN VELVET, KRUJA, LABEX, LAMPE, LARS LEE, LEA, LOVEMAN, LUNA CITY EXPRESS, 10 MARK DJ TEAM, MAC-KEE, MAIK PFLEGER, MANDY, MARC DEPULSE, MARC WERNER, MARCO RESMANN, MAREK BOIS, MARTIN EYERER, MARINGO, MARIO MEYER, MASH, MATHIAS KADEN, MATT:ER, MAURICE MINO, MEAT, MEIK, MELINA, MERRY:), MILOSH, MINISTRY OF MIXING, MISTAKE MADE, MITRA, MOLLONO.BASS, MONERVO, MONOLOC, MONA MORE, MR.FONK, NAJEH, NALAMAZON, NANO BUGZ (LIVE), NINETYFOUR., NORMAN WEBER, OLIVER RAUMKLANG, OTACON OUZO, PANDU, PANIK POP, PETER EILMES, PETER SCHUMANN, PHILOU, PINK CONCRETE, PRISMODE, PSYKAHOLIKS, PYCARD, RAUSCHHAUS, RAW, RAWLEY, SABURA, SASHA, SAUVAGE BACK, SECOND SIDE (LIVE), SECRET ACT, SEYMEN, SHIMANSKI, SHNADYSHURAY, SIN:PORT, SOLVANE, STAN STARRY, STEVE HOPE, STEVEN SHADE, SUDO, SUGAR D, SUPER FLU, SUSZÈ, SVEN TASNADI, SYNTHI, T.A.Z., TANZ FRANZ, TECHNOTÜRKEN, TENTRICULAR, THOMAS STIELER, TILL KRIMSEN, TIM SLIMTONI, TOTUM (LIVE), VARUU, VATERRAUSCHEHART, VOM FEISTEN, WALLE, WAREIKA, WURZELHOLZ, XENIA BELIAYEVA, XULUX, YONS (LIVE), ZUSAN