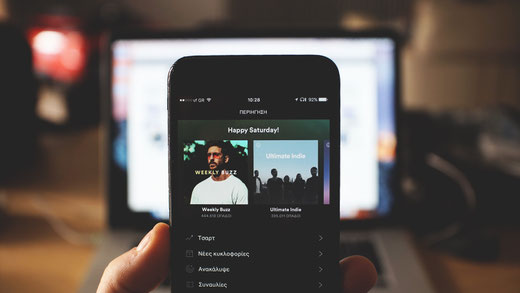 5 Tips To Keep In Mind For Your Next Spotify Release 
The release of your next song is imminent? That requires good preparation and a sophisticated promotional strategy. The better prepared you are for the big release, the more likely you are to reach a large number of streams, listeners and followers. We have gathered five tips that can help you with your release on spotify to land the next hit! 
1. Keep Your Spotify Profile Up to Date 
You made make your fans ears happy, but to engage new ones, is always good to please their eyes. That's why it's crucial to update your Spotify Profile with fitting profil pictures and a bio. Also make sure that all your social media accounts are linked, so new fans can give you a follow quickly. 
2. Try to Get Onto a Spotify Playlist  
Your play times are about to skyrocket, if you successfully make it into a Spotify playlist, that is curated by their mucjournalists. Since 2018 Spotify released over 72.000 artists songs on spotfiy playlist. To promote a song there you need to use the Playlist Pitch Tool. Make sure to label all information (genre, atmosphere) correctly, so the song gets into the right playlist. 
3. Use a Canvas 
To not only make your profile more attractive to the viewers, but your songs as well, you can upload a "canvas". A "Canvas" is a 3-8 second video that is looped on repeat. It will be shown while your song is playing in spotify or on if people tag your song in their instagram story. A great canvas can definitely boost your shares! What are you waiting for? Do you need help - just get in touch with us.
4. Release Personal Playlists
Your fans do not only like to listen to your music, but love to know what you hear as well. Creating a playlist is great to engage fans, who want to learn more about you. This builds a better relationship. As a bonus you can add your songs into the playlist as well. Let's go!
5. Update Your Recommendations
The first thing everyone sees on your spotify profil are your recommendations. That is the perfect spot to promote your new single or album and catch the ears of your listeners in seconds. If you have a podcast or concert coming up, this is a good spot for promotion as well. You can even include a personal message to your fans.