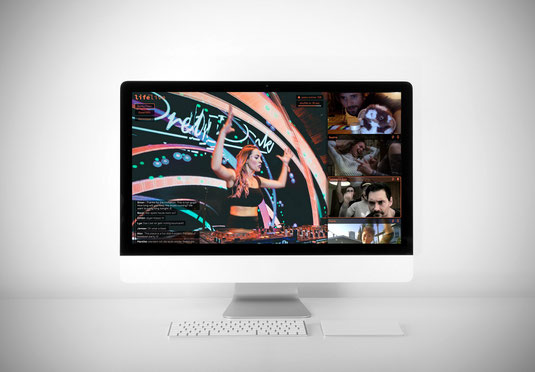 Start-up from Berlin realizes future-oriented solution for the event industry
LifeLive.io from Berlin is one of the most exciting and promising start-ups in the tech-industry. And we are very delighted to have accompanied the company from the very first steps. The innovative concept is based on an interactive streaming platform that allows users not only to participate in a streamed live event - such as a concert, club gig or festival stage - but also to communicate individually with other users via live video broadcast. And as well, to chat with all the other users.
Users who can see each other are constantly reassembled at shuffle-intervals. LifeLive.io also offers the option of switching between different "floors," just as if you were moving from one festival stage to the next. This aspect of communication and interactive participation in particular offers such an important added value for everyone, which is so sorely missed, especially in these Corona times.
LifeLive.io opens the possibility to experience gigs and concerts together with others and to spontaneously meet people from all over the world in an interactive way. Especially for the event industry, LifeLive.io as a B2B partner offers a new and exciting opportunity to generate revenue. Events on LifeLive.io can be refinanced via ticket-sales that simultaneously reactivate the economic cycle in a reasonable way, which in turn allows to remunerate artists and musicians in a fair manner.
Concert halls, clubs and festivals can stream their events live via the platform, while users can participate and interact with each other from home. The first beta events, still without ticket pre-sales, went more than promising. "We are already in talks with various festival promoters – the need for a solution during the current Corona situation on the part of the event industry is absolutely enormous. LifeLive.io is the right answer", informs Lars Kämmerer (Head of PR & Business Development LifeLive.io).
For the implementation of the sophisticated technology, the founders brought "WRD Labs" on board, who have successfully realized projects for major IT customers such as Telekom and Vodafone. LifeLive.io can already serve several thousand viewers communicating interactively with each other in parallel.
In order to provide a high image resolution in a perfectly efficient way, LifeLive uses a peer-to-peer based video streaming, which means the live-videos are forwarded from browser to browser. This also minimizes traffic via the server.
More info: www.lifelive.io